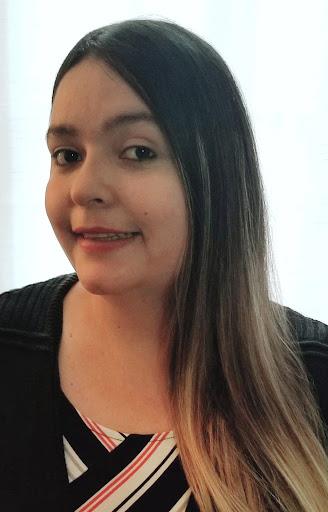 Phone: 252-826-4413 Ext-1811
Email:
Degrees and Certifications:
Graduated from University of Córdoba/Colombia Bachelor of Arts in education, with emphasis on humanities - English Program.
Mrs.

Crisp

My name is Paula Crisp. I am from Bogotá, Colombia (South America). I started studying English as a second language when I was 17 years old on my own, since I love languages. My desire to become a teacher inspired me to achieve my goals. Years later, I graduated at the age of 26. I got a Bachelor of Arts in education, with an emphasis on humanities - English Program.

Having the opportunity to work with children and teenagers as an ESL teacher has been awesome. I am grateful when I see my students dreaming and reaching new goals. I am grateful when I can influence and inspire my students, as I was inspired by some of my teachers to be part of the education of others. We as teachers are responsible for promoting successful, happy and valued beings. This is the best way to contribute to our society. I'm here to help our Halifax county Schools' Multilingual learners.

Español:

Mi nombre es Paula Crisp. Soy de Bogotá, Colombia (América del Sur). Empecé a estudiar inglés como segundo idioma cuando tenía 17 años por mi cuenta, ya que me encantan los idiomas. Mi deseo de convertirme en maestra me inspiró para lograr mis metas. Años más tarde, me gradué a la edad de 26 años. Obtuve una Licenciatura en Artes en educación, con énfasis en humanidades - Programa de Inglés.

Tener la oportunidad de trabajar con niños y adolescentes como profesora de ESL ha sido increíble. Agradezco cuando veo a mis alumnos soñar y alcanzar nuevas metas. Estoy agradecida cuando puedo influenciar e inspirar a mis alumnos, como algunos de mis maestros me inspiraron para ser parte de la educación de otros. Nosotros como docentes somos los encargados de promover seres exitosos, felices y valorados. Esta es la mejor manera de contribuir a nuestra sociedad. Estoy aquí para ayudar a los estudiantes multilingües de las escuelas del condado de Halifax.
Tools to teach our Multilingual Learners
Welcome to the WIDA English Language
Development Standards Framework, 2020 Edition
WIDA has historically grounded its work in language development standards as a driver of equity for
multilingual learners in curriculum, instruction, and assessment. This new edition reflects a continued
commitment to these goals.
Starting in 2004, all editions of the WIDA English Language Development (ELD) Standards have
reflected the belief that multilingual learners are best served when they learn content and language
together in linguistically and culturally sustaining ways. The 2020 Edition recommits to this belief
by maintaining the five original WIDA ELD Standards Statements while adding new and expanded
resources to address updates in policy, theory, and practice

Every school year, NCDPI ESL/Title III offers both face-to-face and online workshops developed by WIDA. These WIDA Workshops cover a range of topics intended for a variety of audiences, from K-12 classroom teachers to ELD specialists, to district and school administrators. Face-to-face offerings allow participants to interact directly with WIDA staff and online workshops through Canvas Learning Management System (LMS) are available when and where it is convenient to participants, offering something for every educator of multilingual learners!
Tools for MLs' Parents and Guardians/Herramientas para padres o tutores .
The English Learner Family Toolkit was created to help families choose education services that meet their child's needs.

Español

El kit de herramientas para familias de estudiantes de inglés se creó para ayudar a las familias a elegir servicios educativos que satisfagan las necesidades de sus hijos.