Return to Headlines
Toyaz Solomon's Announces His Decision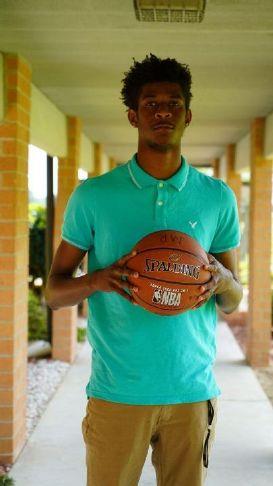 A legacy begins: Toyaz Solomon announces athletic career path
By Richard Holm
rholm@rrdailyherald.com
HALIFAX
2019 Northwest Collegiate and Technical Academy alumni Toyaz Solomon announced he will play basketball at the University of Maryland Eastern Shore.
The announcement came on Wednesday afternoon inside the Halifax County Schools central office board meeting room. Solomon was seated at a table surrounded by school staff members and family, during a Facebook Live stream of the reveal.
Solomon said the reason he chose the Division 1 school was the relationship he had built with the coaches from the university.
"The coaches they're real cool with me," he said. "They built a great relationship with me, and they needed me as a player, so they need me to go in there."
Northwest Coach Antonio Richardson said, he had Solomon for one year when he was a senior, but he played at Rocky Mount Prep in previous years. He said the players he was coaching at the time played ball and talked with Solomon, which made him consider other options to play.
"He just decided and hit me up one day and was like, 'Coach, I'm coming to Northwest this year,' and we just went from there," Richardson said. "I enjoyed coaching him for at least one year. If I could have had him all four years, I would have been happy, but that one year I had him I enjoyed."
Superintendent Eric Cunningham said he was filled with pride and excitement before and after Solomon's announcement. Cunningham said that having a student going to a Division 1 school is an example of the progress the staff at HCS is accomplishing.
"Three years ago, we had a dream of creating, breathing life back into our athletic program," he said.
HCS had a poor basketball and football program before that time, Cunningham said. Beginning that first year three years ago, he said the school district staff focused on improving the facilities and uniforms. The following year honed in on player development, Cunningham said.
"We believe that once a player feels good, they play better," he said. "Two years ago we won the championship. So, it's been a systematic process to improve in athletics in Halifax County Schools."
"Athletics matter," Cunningham continued. "I mean they're the foundation of any school system and colleges. It is so good that we're breathing new life into athletics in Halifax County."
When asked if he was going to grow taller, Solomon said he stands 6 feet 8 inches and possibly has more room to grow.
"I still get pimples and stuff like that, so I think I'm going to get taller," he said, chuckling.
When asked if he ever thought he would get to this point to go to a Division 1 school, where athletes have a strong chance to play in the big leagues, Solomon said it was a dream.
"When I was younger, dreamt of it, but I never thought it would come, but we're here now," he said. "It is what it is, and I'm ready for it."
Solomon said he has been playing basketball for as long as he can remember. He attributes his success to his role model, Antonio, for helping him develop and pushing him.
"He stayed on me in practice telling me I've got to get better and that I was a Division 1 talent," Solomon said. "I just took it in and put it all to work."
When this reporter told Antonio how Solomon saw him as a role model, he appeared to be caught off guard.
"That's tough," he replied. "That makes me feel good. I'm going, to be honest with you, he helped me through a lot of situations. He did a whole lot for me, like getting the kids when we were in practice and the guys wanting to laugh and joke around. He would tell them, 'Alright, let's go — let's do this.' That's just the type of kid he was, and all the guys flocked to him."
Making it to the National Basketball Association has always been a big dream, Solomon said.
"Going to this Division 1 is just another step closer to it," he said. "All I've got to do is play good and assert myself and get better, and I can be there one day."
Solomon said he wanted to keep his professional career local and hopes to play for the Charlotte Hornets as that is his favorite team, but said his favorite ballplayer is New Orleans Pelicans Small Forward Brandon Ingram.
"I try to play like him a lot, and he's tall, skinny and from the 252 [area code] and stuff like that," he said. "He's a good player and getting better."
Cunningham reacted to Solomon's decision to remain in the area in a professional career.
"See, he wants to stay home, and that's a testament to us," he said. "I mean think about it when a young man gets to go to Maryland, but he still dreams of coming back to the great state of North Carolina, that says a lot about the conditions and things here that are attracting our young people back."
With a former student of the school district going to a Division 1 school, Cunningham was asked if this puts a roadmap down for other aspirations for students.
"Right now, Halifax County Schools has 1,100 kids who live in Halifax County but attend other school systems," he said. "We have acknowledged that and we said that we are going to improve our school system to attract our own children back. I'm telling them, we're ready, as you can see how we're loving our kids, how we're supporting our kids and that's why we're giving them an opportunity to do bigger and brighter things. You can live your dreams in Halifax County."
When asked what advice he could give younger generations attending HCS, Solomon kept it simple.
"Just keep going hard, stay in school, do your homework and listen to your parents," he said. "Just do what you do best and be the best you can be is all you can do."
During the announcement, Cunningham told Solomon that he was starting a legacy.
When asked afterward what that meant for the future of HCS, Cunningham said, "When he returns 20 years from now, he will be able to look at the rafters and see a banner. He will be able to tell the story of how he was a main factor in hanging that banner up for his kids, his grandkids, his friends. That just sets the bar for future generations that you too can have a banner hanging up in the rafters of Halifax County Schools, and that's what legacy is."