Meet the Teacher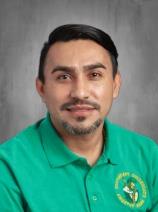 Phone: 2525291116
Email:
Degrees and Certifications:
1. Bachelor in Arts (licenciado en education basica enfasis humanidades - Ingles) 2. Bachelor in Tourism and hotel administration 3. MA in TESOL (Teaching English As a Second Language)
Mr.

Ronny Osorio - Lopez

My name is Ronny Osorio - Lopez. I am from Colombia and I am "Licenciado en Educacion Basica Enfasis Humanidades – Ingles". I graduated in 2009 from Cordoba University in Colombia, which is in South America. Also, I have a bachelor's degree in Tourism and Administration from the same university. In 2016, I received my MA in TESOL from Greensboro College here in the USA.

As a teacher, I have been working for 12 years. I worked 2 years before I received my first bachelor and 10 after it. I worked in different schools back in Colombia for 6 years, and with Halifax county schools, I have been working as a Spanish teacher for 6 years at SCPA.

My goal for this course includes exposing all the students to the Spanish language, convening the culture, and fun activities in class in order to them to understand the language in a global way.
My schedule
Schedule and Instruction

(First 10 Days)

| | | |
| --- | --- | --- |
| Arrival/Breakfast | 7:35 am – 7:55 am | 20 M |
| Homeroom | 8:00 am – 8:45 am | 45 M |
| First Block (Planning) | 8:45 am - 10:15am | 85M |
| Second Block Spanish 1 | 10:15 am– 11:45 am | 85 M |
| Third Block Spanish 1 | 11:48 am - 01:45 pm | 85 M |
| Lunch A | 11:48 am - 12:13pm | 35 M |
| Lunch B | 12:35pm- 01:00 pm | 35 M |
| Fourth Block Journalism | 01:50 pm- 03:15 pm | 85 M |

REGULAR SCHEDULE

Bus Arrival/Breakfast

7:40 am– 7:55am

15 M

First Block

8:00 am – 9:30 am

90 M

Second Block

Spanish 1

9:35 am - 11:05 am

90 M

Intervention Block - TTT

11:08 am – 11: 48 am

40 M

Third Block - Spanish 1

11:51 am - 01: 45 pm

90 M

Lunch A

11:48 am - 12:5 pm

Class: 12:16 - 1:45 pm

25 M

(4 M for transition)

Lunch B

12:35 pm - 1:00pm

Class: 11:51 - 1:21

25 M

(4 M for transition)

Fourth Block Journalism

1:48 pm – 3:15 pm

87 M
Mr. Osorio Daily Agenda
1. Do Now / 7/10 minutes

2. Instructions (powerpoint-video-new vocabulary) / 30 - 40 minutes

3. whole/small groups/ practice in class / 15- 20 minutes

4. Question and answer / 5-10 minutes

5. Exit ticket (Homework/Reading) 5 minutes