Remote Alternative Learning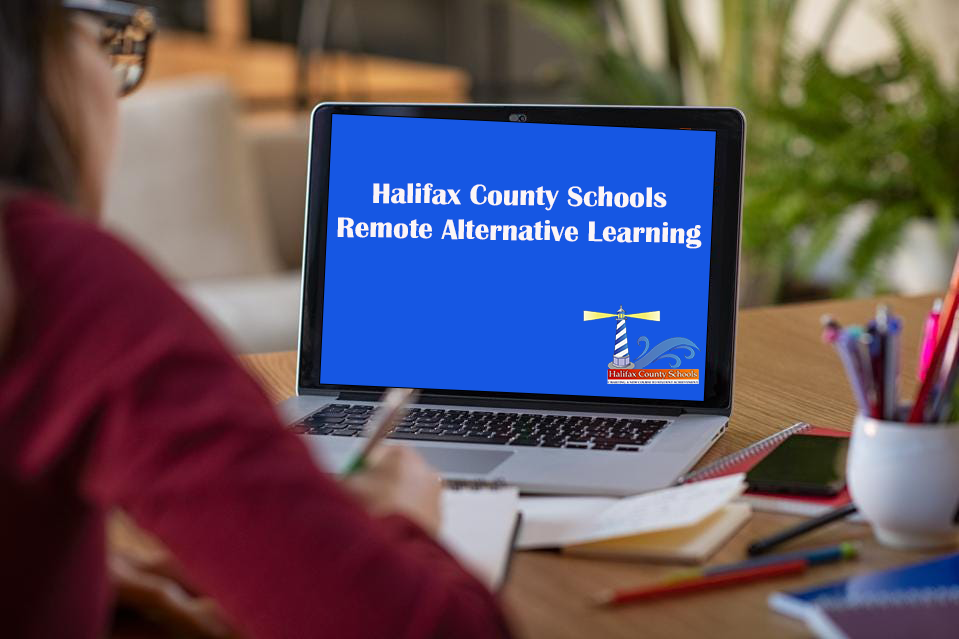 Vision: Halifax County Schools will focus on the needs of the students by empowering them to be successful global residents.

Mission: To create a supportive and positive learning environment to address the needs of the whole-student in partnership with educators, staff, parents, and communities.
Announcement!

Halifax County Schools offers Remote Alternative Learning Options to:

Remote Learning Definition: In NC K-12 public schools, remote learning is defined as learning that takes place outside of the traditional school setting using various media and formats (examples: downloaded content onto school-issued computer devices, textbook materials, online material, learning management systems, etc).
I. The Halifax County Schools Board of Education recognizes that online instruction is a valuable tool for affording students extended educational options. HCS will provide opportunities for students to participate in remote instruction to the extent that it is academically and financially prudent.

School counselors shall advise students on North Carolina Virtual Public School courses and other online courses available for credit.
Enrollment in an online for a high school course will count toward satisfying board requirements related to minimum instructional days, seat time policies, student attendance, and athletic and/or extracurricular obligations.
A student, with the principal's prior approval, may enroll in an online course with assistance from the school's remote learning advisor.
School counselors will serve as the remote learning advisor, who will be responsible for coordinating the enrollment of students in online courses, monitoring students' progress in those courses, and supervising any required testing.
The principal shall ensure that the remote learning advisor implements a plan for supporting credit recovery students throughout the semester.
Regulations are consistent with the State Board of Education requirements and the HCS' policy for students enrolling in online instruction.

II. Getting Started: HCS' Remote Alternative Learning Options

For more information about HCS' Remote Alternative Learning Options, contact your child's school guidance counselor to:

Receive clarifying information about Halifax County Schools' Alternative Learning Options' design qualities
Complete the request for an Identified High-Risk Alternative Learning Agreement
Schedule a student & parent-teacher Alternative Learning Orientation

III. Essential Questions

A. How will the HCS' Remote Alternative Learning Options meet the needs of identified at-risk students?

Halifax County Schools will partner with families and key stakeholders to serve identified at-risk students' tiered educational needs. These students will be given an opportunity to learn the skills necessary to redirect their education outside the standard classroom setting. The HCS Alternative Learning Options:

Provide the primary instructional design qualities for identified at-risk students beyond the standard classroom
Enroll students for a designated period of time (not drop-in)
Offer course credit and/or credit in core academic areas
Assist students in meeting requirements for graduation

B. What is meant by a student identified as "at-risk"?

Any students who may experience school failure unless interventions outside the classroom occur to reduce the risk factors. Circumstances that often place students at risk may include but are not limited to:

identified health risk behaviors
identified disabilities
poor school attendance/truancy
homelessness
negative peer influence
documented unmanageable classroom behavior
multiple grade retentions (over-aged student)
interruptions due to documented family hardship(s) (medical, financial, death, and catastrophic event)

IV. Additional Parent Resources:

DPI: Multi-Tiered System of Support for Families

What is NC MTSS: An Overview for Families
What is Support?

DPI: Safe Schools Info for Students and Parents

DPI: Home Connect: K-4 mClass Activities

Phonological Awareness

Phonics

Accurate and Fluent Reading

Reading Comprehension

HCS: K-12 Online Learning

HCS Elementary Academic Resources (K-5)

HCS Secondary Academic Resources (6-12)

HCS Grade Level Learning Packets

HCS: Written Process